The use of combi ovens in commercial kitchens is on the upswing, and with good reason. Not only do they deliver consistent cooking results, but they also help reduce shrinkage, eliminate flavor transfer, and save time and labor.
Vulcan combi ovens are engineered to help today's busy commercial foodservice operations get the results their customers crave without compromising the bottom line. Read on for a comprehensive guide to all things Vulcan combi ovens.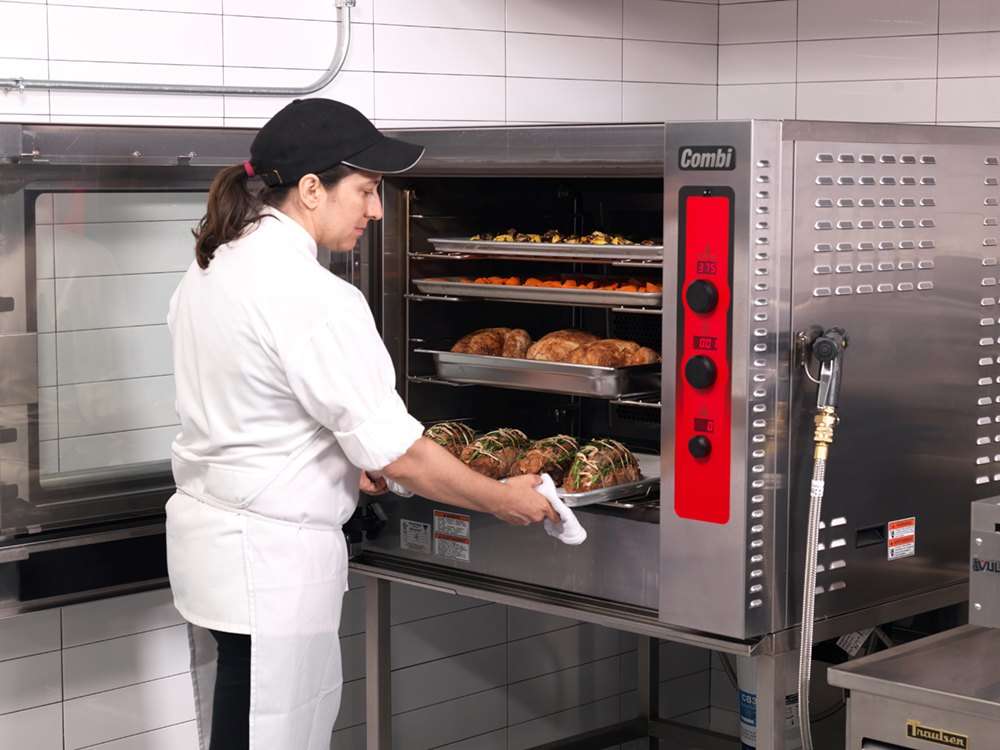 What Is a Combi Oven?
Relatively new players on the professional kitchen equipment scene, combi ovens are true multi-tasking machines. Specifically, they let operators choose between three common cooking methods: convection heat, steam, or a combination of the two. Additionally, they fulfill a number of other purposes, including functioning as slow cookers, holding cabinets and proofers.
One of the main advantages of commercial combination ovens is the accurate temperature controls, which allow foods to be cooked according to the precise specifications of operators. Available in both electric and gas models, combi ovens grant restaurant owners and managers even greater flexibility when it comes to choosing a type of combi oven which best meets their needs.
Combi Ovens by Vulcan
As the longtime global leader in providing top-quality and energy-efficient commercial cooking equipment, it's hardly a surprise that Vulcan has responded to the combi oven craze with multiple innovative options aimed at helping commercial kitchens optimize operations.
At the heart of each? A commitment to simplicity. The user-friendly knobs confer all of the advantages of combi cooking with unprecedented convenience and ease-of-use. Operators just set the time and temperature, and
Vulcan combi ovens
do the rest.
Vulcan's combi oven offerings include the following: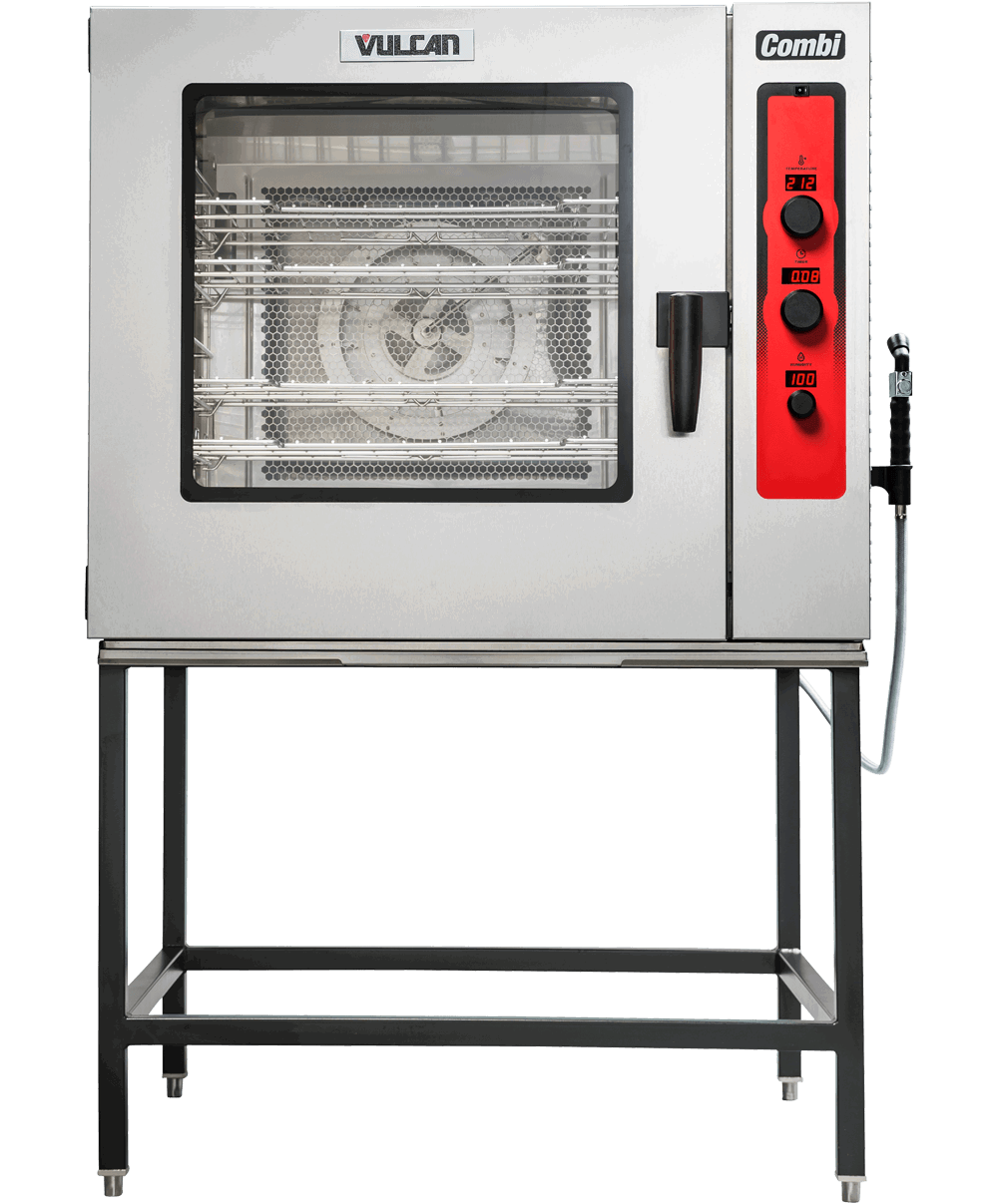 The ABC Series Boilerless Commercial Combi Oven Steamers
Available in both
gas
and
electric
models, this ingenious combi oven comprises all of the performance of a conventional combi oven without the complexities. Features include boilerless steam generation; visual recall display of actual temperature LEDs; timer reloads for batch cooking; flashing door lights and audible alarm system alerts when the cooking cycle is finished; machine diagnostics accessible via controls or USB; and a host of other productivity-enhancing attributes.
Stainless steel components; cool-to-the-touch and energy-efficient, heat-reflective tempered glass doors; and a one-year parts and service warranty add to the list of reasons why the ABC is a standout among combis.
Learn More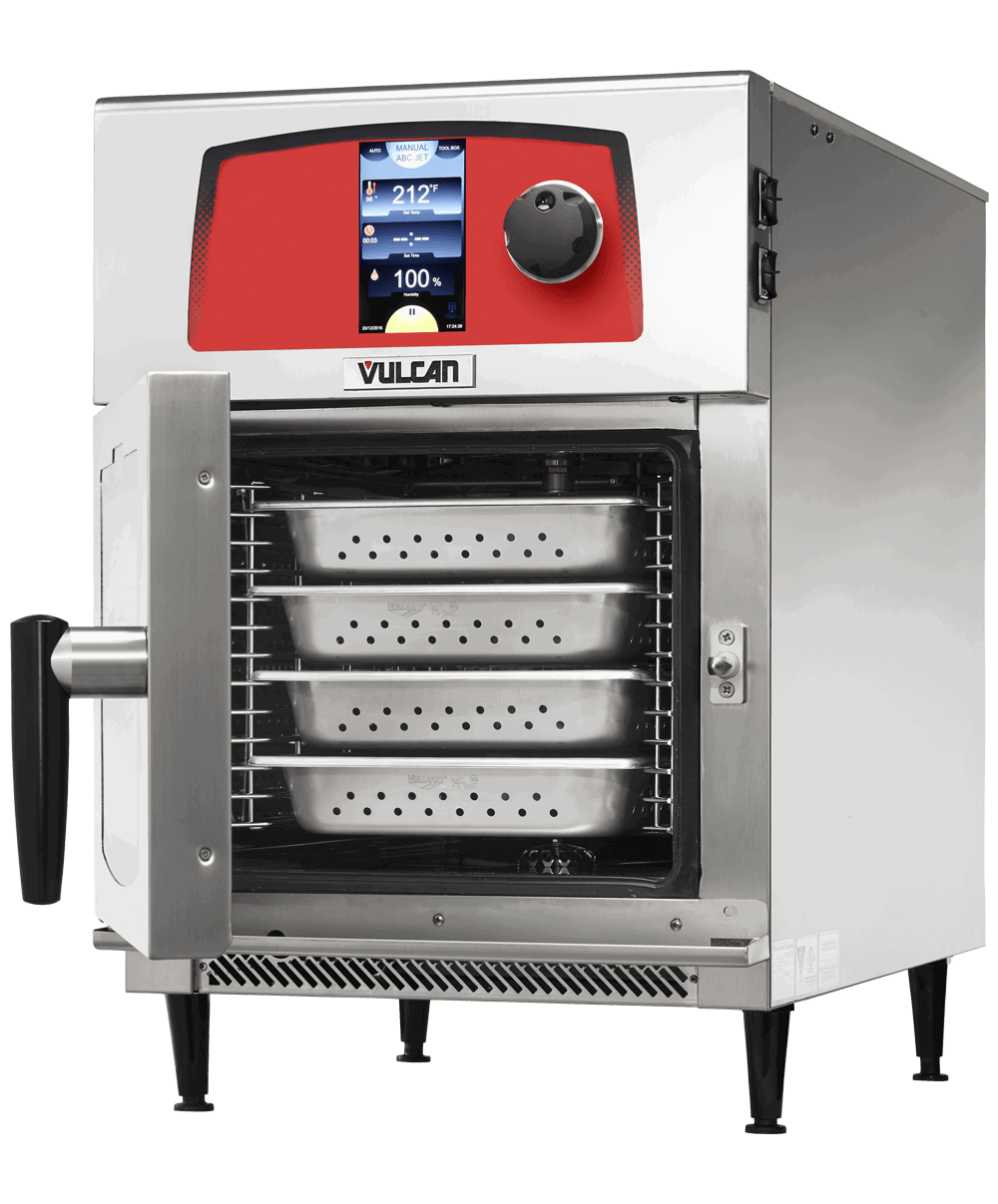 The Vulcan Minijet™ Series Commercial Electric Boilerless Mini Combi
Proof that combi cooking doesn't have to be complicated, the
Minijet Combi Oven
offers all of the advantages of a combi in a practical size for today's space-conscious foodservice operations. The best part? It is suitable for all skill levels thanks to three intuitive displays: the ABC, which lets operators set time and temperature then uses an exclusive algorithm to determine optimal humidity; the JET, which grants chefs full control over everything from fan adjustment to cooking with a food probe; and the AUTO, which lets even the most novice operators achieve desired results thanks to the combination of touchscreen and picture display.
In addition to the handy touchscreen, the Minijet also features a knob control for even greater ease of manipulation -- even when wearing gloves.
The rare result? A combi oven that is equally useful for operators ranging from entry-level to the highly skilled.
Learn More
Choosing a Vulcan Combi Oven
When it comes to commercial combination ovens, Vulcan has both performance and productivity, the ability to perform multiple cooking tasks -- including baking, steaming, roasting, air-fry, rethermalization, proofing, finishing, poaching, stewing, low temp and defrosting -- from a single piece of equipment make combis a must-have.
But with so many models on the market from which to choose, selecting the right one can seem like an overwhelming task. Luckily, you can't go wrong with
Vulcan combi ovens
, which only offer unbeatable speed, precision and versatility -- all backed by the trusted Vulcan name.
Other Restaurant Equipment Vulcan Has to Offer
Want more information on Vulcan Combi Ovens?
Our team is educated and experienced when it comes to commercial ovens, as well as all kitchen and restaurant equipment. As your number one kitchen supply store, we'd love to help you pick the perfect pieces for your business.
Talk to an expert today.