LEXINGTON RESTAURANT SUPPLY

Lexington, KY, the largest city in the state, boasts an impressive food scene that attracts hungry locals and tourists from all over. Known for being wonderfully diverse, there is no shortage of international flavors to savor. From the classic southern staples to Lexington specialties that help make it all it's own, there is a little something for everyone to enjoy. Here at Dean Supply, we're dedicated to helping the culinary scene continue to prosper by providing all of the Lexington, KY restaurant supplies and equipment you need.
No matter if you are on the hunt for bulk restaurant dinnerware, commercial kitchen equipment, flatware, bar glassware, professional cleaning supplies, takeout containers or anything in between, Dean Supply has the selection and prices you need. With over 14,000 items in stock at our Cleveland warehouse, you'll get fast, reliable shipping to your Lexington foodservice establishment. Our knowledgeable and friendly staff is ready to help you achieve your goals without emptying your wallet. What makes us different from our competitors is the flexibility we offer. With thousands of items available to purchase in case or individual quantities, you only have to buy the number of dinner plates or old fashioned glasses that you actually need. No more to pay for more than you have room to store!

With a wide selection of new commercial kitchen equipment, you can get your new restaurant up and running in no time. Need to find a replacement for an old or broken restaurant convection oven or commercial freezer? We're here to help. No matter what type of deep fryer, salamander, chef base, sandwich prep table, charbroiler or range you need, we'll get you what you need to continue feeding every hungry customer. Next time you need to restock your kitchen, bar, hotel, bowling alley, church or school think Dean Supply!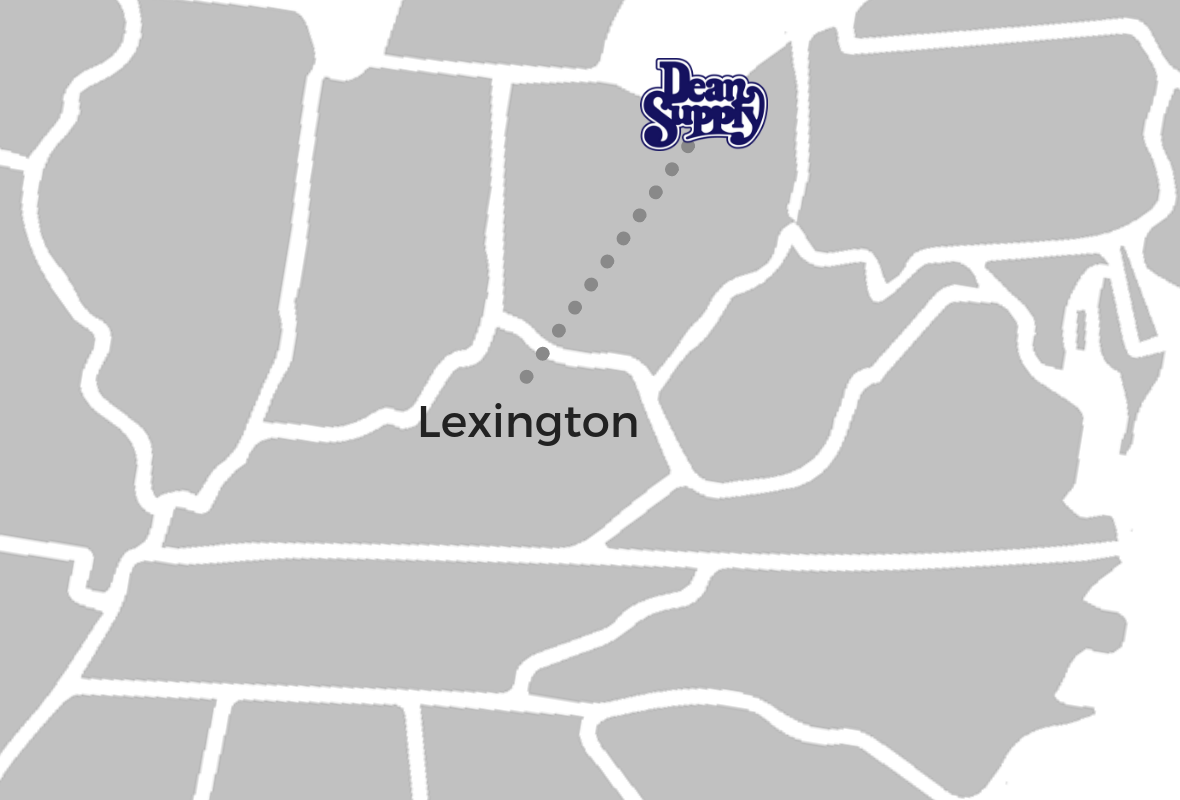 Get Fast & Reliable Shipping To:
- Lexington, KY
- Winchester, KY
- Richmond, KY
- Nicholasville, KY
- Frankfort, KY
- Georgetown, KY
- Paris, KY
How do you set your restaurant apart from the millions of others out there? It starts by having the right supplies and tools on hand. That's why we are providing you with The Dean Supply Reference Guide. This is a comprehensive guide that will take you through the latest trends in restaurant equipment, design and tools that will help you craft your business to be something all it's own. Check out the guide and get inspired today!
See the Dean Supply Reference Guide
Need Assistance?
No matter what type of kitchen supplies or commercial restaurant supplies you are looking for, we're here to help you get it right. Here at Dean Supply, we have a highly attentive customer service team readily available to answer your questions, help you make purchasing decisions or place orders on your behalf.
Talk to an expert today
.

-------------------------------------------

See other shipping locations: