Wedding and Anniversary Supplies
Make sure your event goes off without a hitch by stocking up on wedding supplies with Dean Supply. No matter what the party is for, you will find all the gorgeous decorations, catering supplies and dinnerware items you will need to celebrate new or old love. With over 30,000 items in stock, you are sure to find exactly what you need. Can't find what you're looking for?
Click here to contact us for assistance
.
Make the event fun and festive with wedding and anniversary decorations. From streamers, banners, centerpieces and wall hangings, you can set the loving mood with party supplies without breaking the bank. Pick up a wedding card box to organize all the cards from guests without leaving them in plain sight and rose petals for the flower girl to take down the aisle. Get all of your anniversary party supplies and wholesale wedding supplies online that are as affordable as they are fun!
SHOP DECORATIONS
Disposable Dinnerware & Wedding Reception Supplies
You don't have to sacrifice style when you use disposable dinnerware at your engagement party, bridal shower, wedding reception or anniversary celebration. Pair high-quality plasticware with a heavy-weight utensil set to give it a more realistic feel, but without all the dishes to do later. Look for a brand like Fineline and you will get an elegant finish that looks like the real thing, but without the hassle.

If you are going for a more rustic-themed wedding reception or engagement party, then biodegradable cutlery may be for you. The Leafware line offers palm leaf products that have a unique feel without the traditional disposable dinnerware look. With a complete line of plates, bowls, trays and even different sizes of cutlery, you can maintain a consistently earth-friendly theme. No matter what type of wedding reception supplies you need, including plates, napkins, cups & more, we have you covered!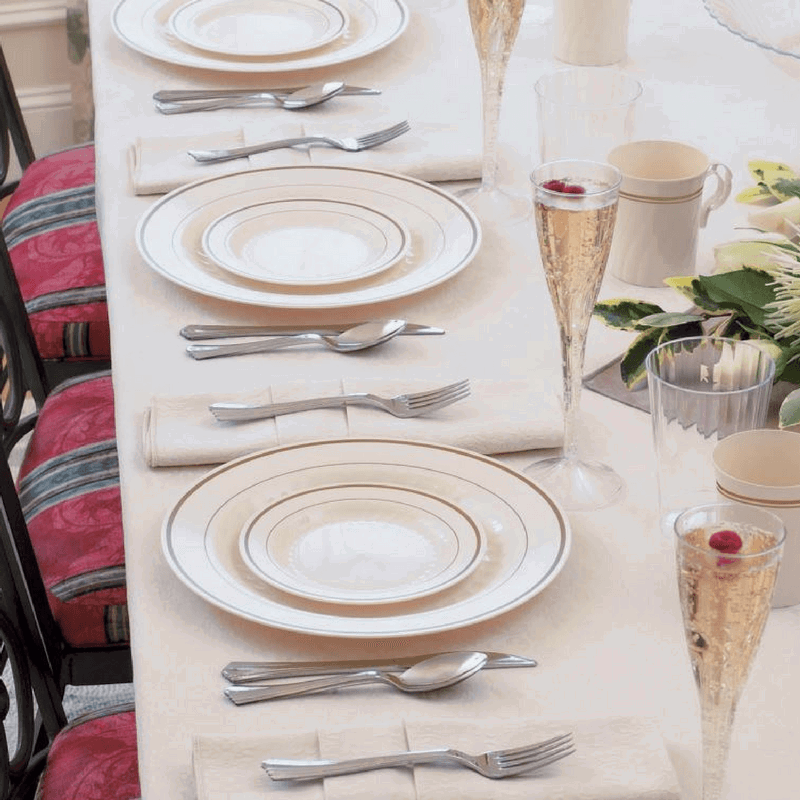 With the WNA collection, you will get upscale plasticware that is sophisticated and stylish. With the right pairings, you can have the authentic look and feel of high-quality cultery without the expense or piles of dirty dishes.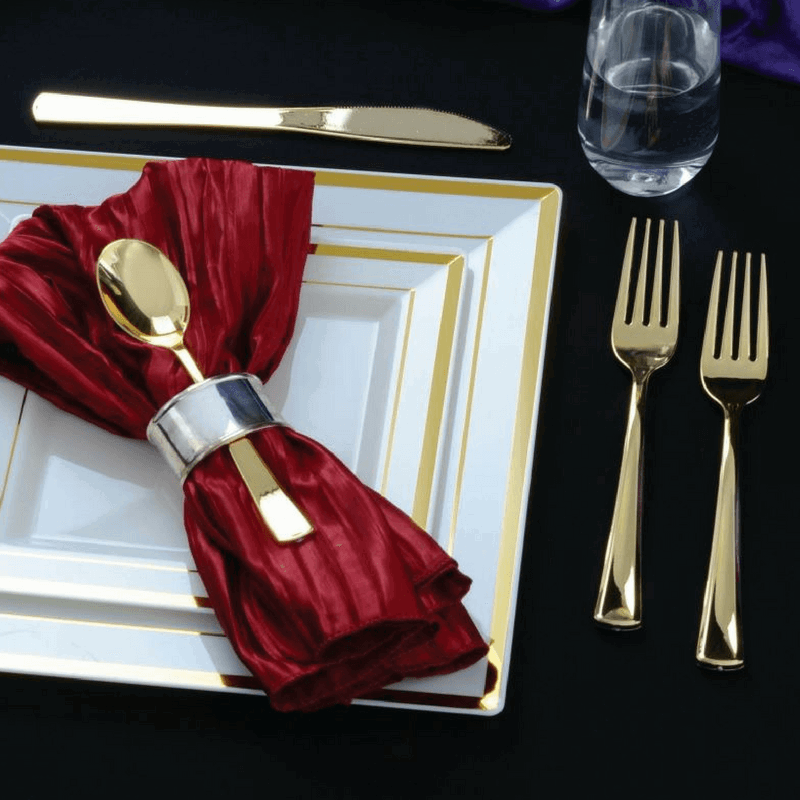 A collection of elegant gold or silver accents that is fit for any occasion. With weighted cutlery options that have the visual appeal of the real thing, you can maintain a classic and elegant look with disposable convenience.
Save Money with Wholesale Wedding Supplies
More and more brides are also opting to buy wedding reception supplies instead of renting. You can find discount and overstock china that is perfect for a wedding, but at the end of the day, you will have a collection of dinnerware to take home. You can either keep it in storage until you need it again, you can pass it on to another friend or family member that's engaged, or you can sell it online. There are plenty of websites that support the sale of used wedding receptions accessories for the brides who have a tighter budget. With renting dinnerware for you wedding, you will not get any return on investment, but when you buy it, you will get some return in one way or another.
SHOP CLEARANCE DINNERWARE
Party and Wedding Catering Supplies
A lot goes into planning the food for all the parties that go along with a wedding, including the engagement party, bridal shower, and the reception. To make it a little easier, we offer everything you need under one roof. From chafing dishes, to serving utensils, beverage dispensers & tubs and buffet displays, we are your one-stop-shop for wedding catering supplies. Whether you are a part of a catering company that regularly feeds weddings or you are a bride taking on the task of catering your own wedding, you can get the job done with a little less run-around and a little extra wiggle room in your budget with our cheap wedding supplies!
Browse around the catering supplies section and check out our
Pinterest page
for creative food displays and unique serving ideas for weddings that your guests are sure to love.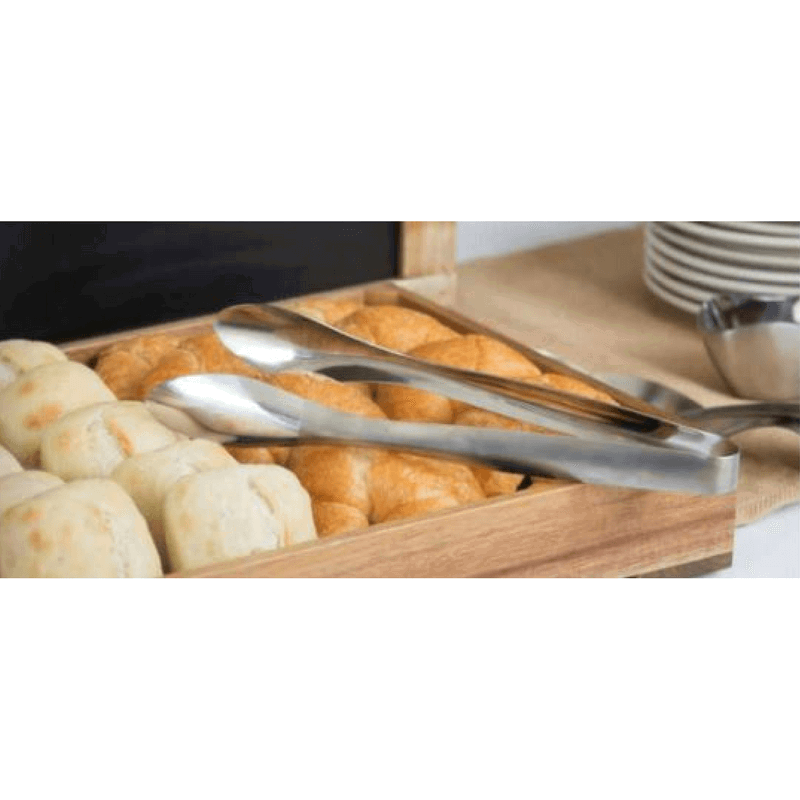 When it comes to your special occasion, even the smallest details matter. From tongs, serving spoons, carving forks and more, you can find what you need at the price you want.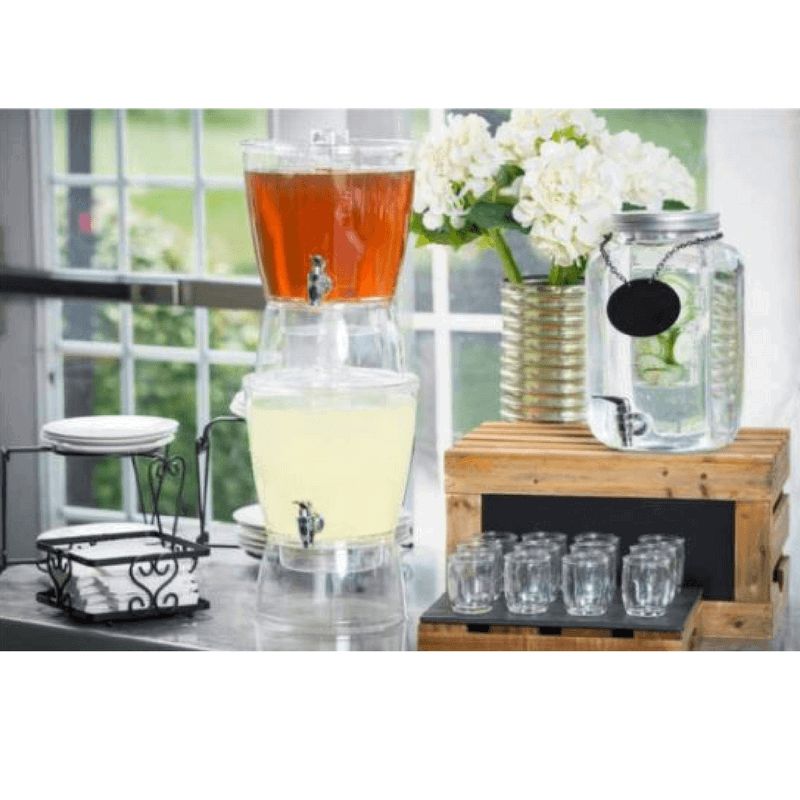 Create a fun and festive beverage station full of lemonade, water, ice tea, juice and more. Keep drinks cold and easy to serve without losing the presentation you desire.
Mini Disposable Catering Supplies
Ordinary appetizers taste better when they are served with impeccable presentation. That is where mini catering supplies come into play. While your guests are mingling and getting ready to enjoy the party, serve up the perfect bite-sized foods with appetizer plates, spoons and picks that are just the right size. Presentation is always important, but the food should also be easy to eat while standing. The best part is that these are disposable, so there are no dishes to wash and nothing to return back to the rental company. By keeping the appetizer portions small and plating them the right way, will make the cocktail hours more enjoyable for everyone.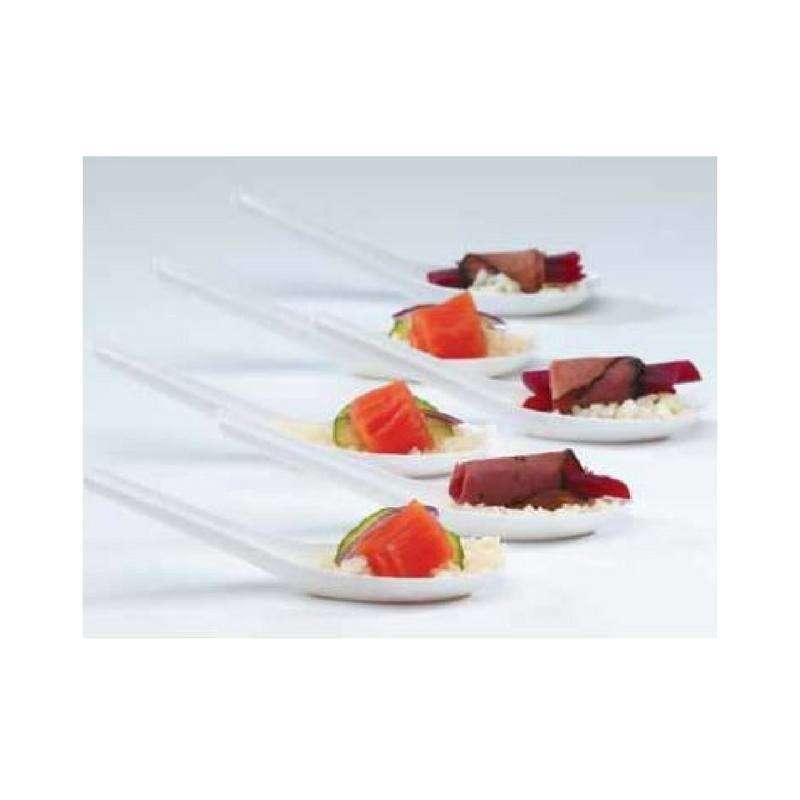 Unique Bite-Sized Service
Skip a step and serve your bite-sized food right on the spoon or fork. Your guests will love the unique presentation as much as the tasty food.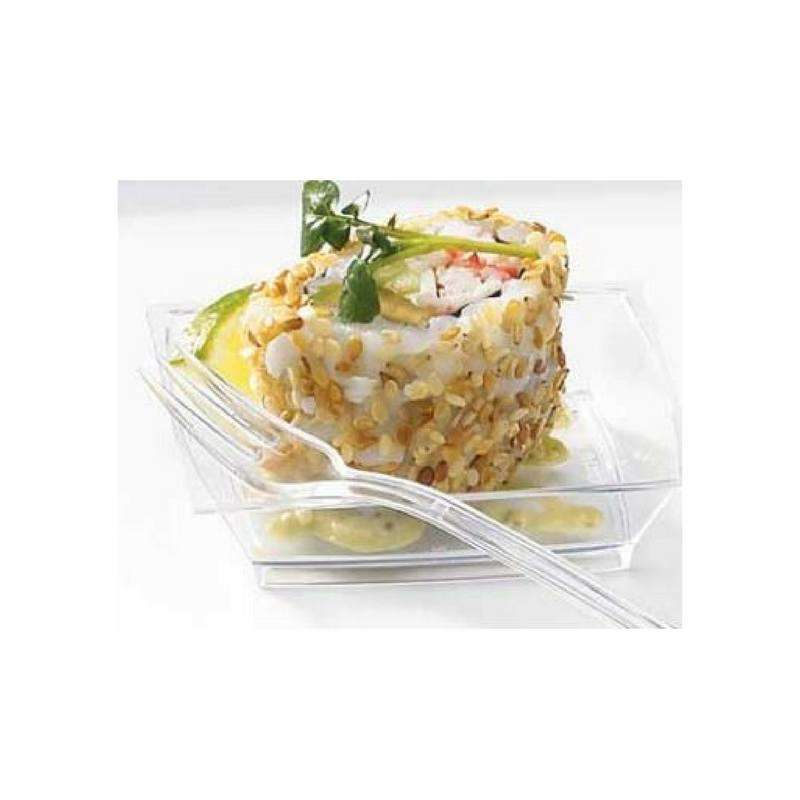 These square plates and small appetizer forks are easy to hold while standing and hold the perfect amount of food. Great for desserts, too!
Make Your Own Wedding Desserts
Are you wondering how to make your own wedding desserts? It may sounds daunting, but with a little planning and shopping with Dean Supply, you can make sure you get all the kitchen tools you need in one stop. With pastry bags and tips, baking pans, rolling pins, mixing spoons and display items, you will leave with a little extra dough in your pockets and less stress on your to-do list.
These tips are also very helpful when planning parties on the smaller scale, like your engagement party, bridal shower or any wedding party!

Here are some tips on how to make your own desserts for you wedding:
Months in advance, start planning the dessert menu. Think realistically about what you want and pick recipes that are relatively easy to make in bulk. You don't want to get halfway through a recipe and realize you've bitten off more than you can chew.
Along with planning, think about tasty recipes that freeze well. It'll take a little pressure off if you can start baking a few weeks in advance and do it a little at a time. Make sure you have enough plastic wrap and foil on hand so you can ensure an airtight seal to maintain freshness.
Recruit help! Gather friends and family to be a part of the experience. Spending time in the kitchen with loved ones is a great way to make memories and to let lots of hands play a role in making your big day extra special.
Think about transportation. How will you get your treats from the kitchen to the venue? Some desserts (especially frosted ones) can be a bit delicate and require special care when transporting. Making sure you have a plan in place early so it's not a a problem come the big day.
SHOP BAKING SUPPLIES