CHICAGO RESTAURANT SUPPLY

Chicago, IL is a city that is famous for its food. Whether you're chowing down on some traditional Chicago-style deep dish pizza, an Italian Beef sandwich or a classic Chicago hot dog, you know you're going to be eating well in the Windy City. It's an epicenter for a wide range of restaurants from upscale dining, grab-and-go cafes, casual eateries and everything in between. So while you're strolling through Millennium Park, the Navy Pier, the Magnificent Mile or the many museum and parks, you never have to look far for great food.
With the constant crowd of tourists taking on the city, it is imperative to have a reliable provider of Chicago restaurant supplies. That's where Dean Supply comes in. With our Cleveland warehouse packed to the brim with the restaurant equipment and tools you need, we can guarantee we'll do everything in our power to provide fast and reliable shipping to your Chicago restaurant or bar. Due to proximity and our impressive selection of in-stock items ( over 14,000! ) we can provide quick shipping, in most cases just 2 or 3 days! We're open to the public so any professional or home chef can get the goods they need to create their own culinary masterpieces. So whether you need professional deep dish pizza supplies, commercial cleaning solutions, bulk glassware, restaurant dinnerware, silverware or a trustworthy restaurant equipment store in Chicago, you'll never have to wonder where to buy your supplies again!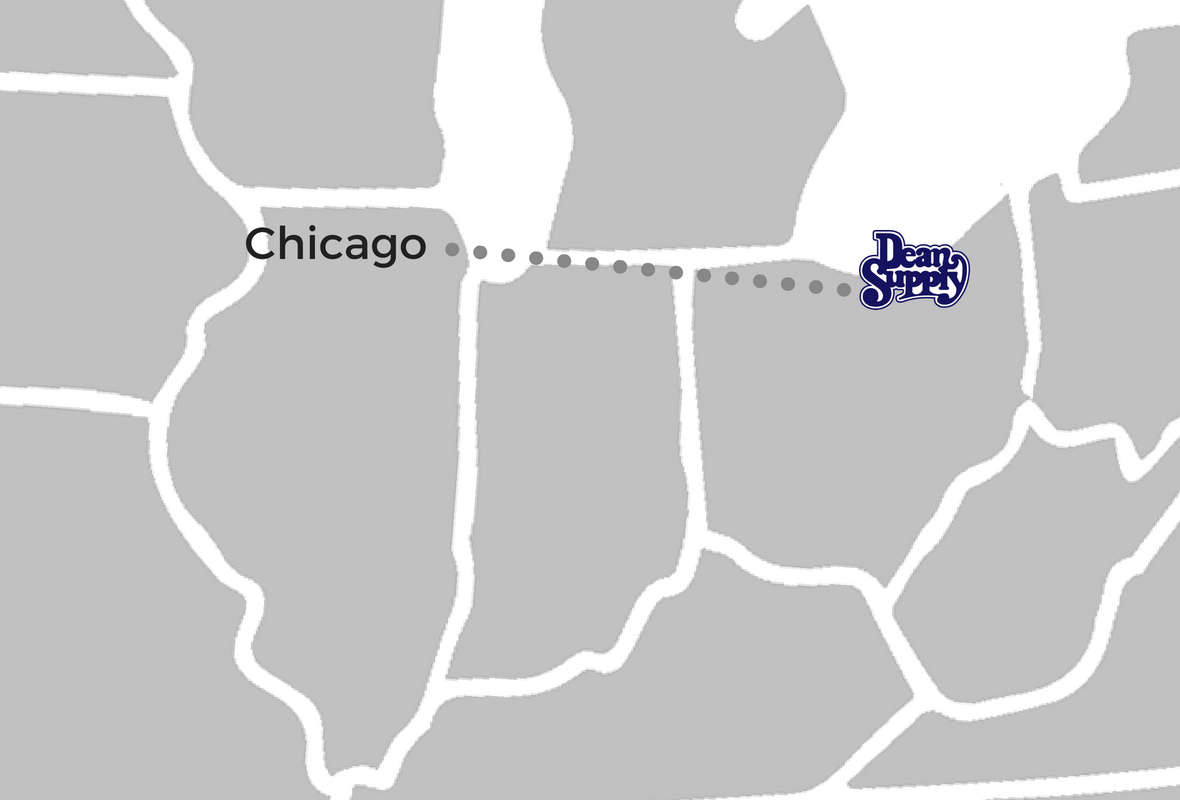 Estimated Delivery Time =
2 to 3 Business Days

Get Fast & Reliable Shipping To:
Chicago, IL
Evanston, IL
Aurora, IL
Gary, IN
Naperville, IL
Joliet, IL
Need a little inspiration? Whether you are opening a new restaurant in Chicago, IL or you're looking to refresh your current restaurant equipment, we have the ultimate resource for you: The Dean Supply Reference Guide. This is a carefully crafted guide that is packed full of new trends, hot items, and information on the essential restaurant equipment pieces you need to run a successful restaurant, bar, cafe, party center, or home kitchen in Chicago, Illinois.
See the Dean Supply Reference Guide
Need Assistance?
No matter what type of kitchen supplies or commercial restaurant supplies you are looking for, we're here to help you get it right. Here at Dean Supply, we have a highly attentive customer service team readily available to answer your questions, help you make purchasing decisions or place orders on your behalf.
Talk to an expert today
.

-------------------------------------------

See other shipping locations: