TOPEKA RESTAURANT SUPPLY
As the capital city of Kansas, there is no shortage of fantastic restaurants in Topeka. From ethic fair to traditional delicacies, there is something to satisfy every whim. It takes a lot of time, effort and supplies to run a successful foodservice operation, but luckily you've found the most reliable Topeka restaurant supply store: Dean Supply. We specialize in helping you achieve your goals. With thousands of items in stock and ready to ship to your door, you can trust that we'll do everything we can to get you what you need, when you need it (and for the best prices around!). Our Cleveland warehouse is stocked to the brim with the top brands you've been looking for. Now you can stop wondering where to buy restaurant supplies online!

We are a family owned business that's been around for almost 70 years, so we know what it takes to get you what you need. Whether you're in search of where to buy bulk disposable dinnerware, you want to refresh your restaurant flatware,or you need to stock up on bar glassware, we can help you get it. One significant benefit of shopping with us over our competitors is the flexibility we offer you. Thousands of our items are available in case or individual quantities so you can get just the right amount. We're here to help you get your supplies without emptying your wallet.

Our complete line of commercial kitchen equipment will provide you with the tools you need to create all of your culinary masterpieces. Shop charbroilers, gas ranges, freezers, griddles, deep fryers, commercial microwaves, and so much more. To keep your new equipment, and your entire organization clean, you'll also want to take a look at our professional cleaning supplies section. We have green cleaning chemicals, scrub brushes, paper towels and everything else you need to ensure your entire organization is safe and sanitary.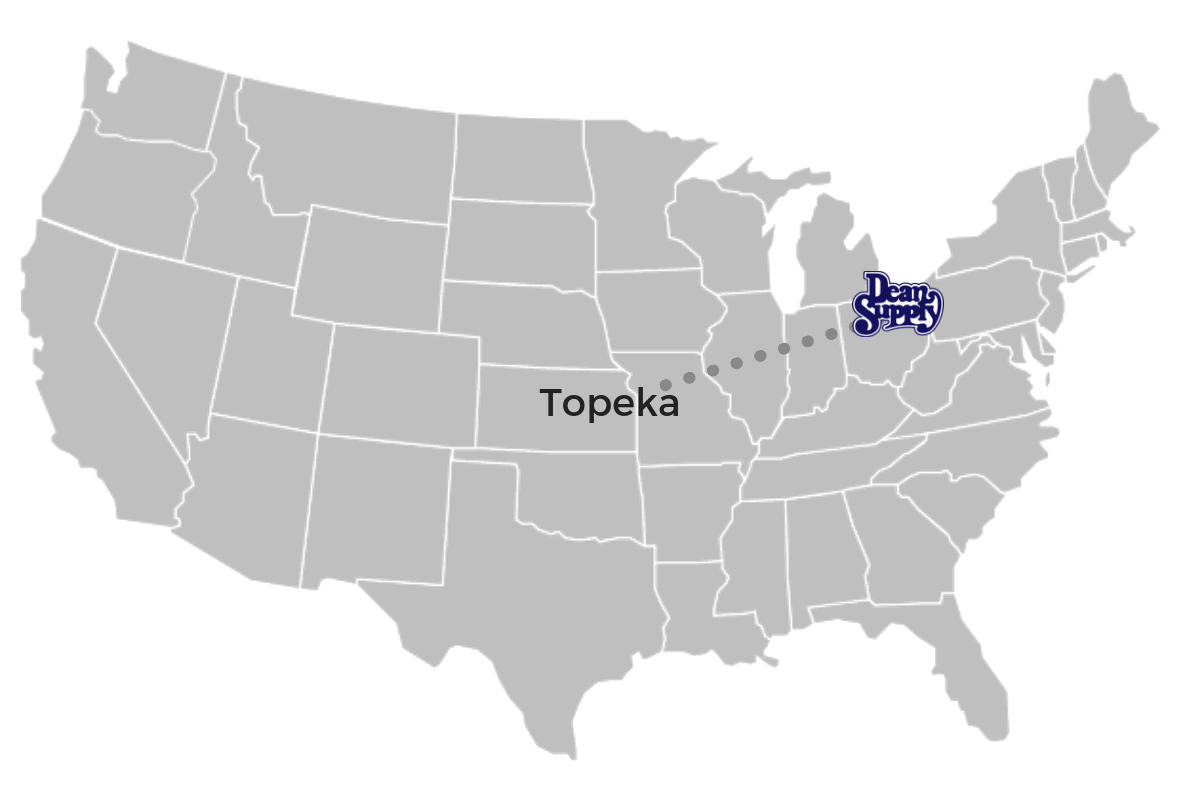 Estimated Delivery Time = 3 to 5 Business Days

Get Fast & Reliable Shipping To:
- Topeka, KS
- Rossville, KS
- Silver Lake, KS
- Stull, KS
- Lawrence, KS
- Lake Shawnee, KS
-------------------------------------------
Are you opening a new restaurant in Topeka, KS? Looking for ideas to refresh your current offerings? The Dean Supply Reference Guide is packed full of top trends, new ideas and tips that will help you figure out what direction you want to go. The possibilities are endless and your customers will love the creativity that comes from this helpful catalog. Still need some advice?
Talk to an expert today
.
See the Dean Supply Reference Guide
See other shipping locations:



Need Assistance?
No matter what type of kitchen supplies or commercial restaurant supplies you are looking for, we're here to help you get it right. At Dean Supply, we have a highly attentive customer service team readily available to answer your questions, help you make purchasing decisions or place orders on your behalf.
Talk to an expert today
.