Located on the Mississippi River, St. Louis, MO has a lot to offer tourists and locals alike. You may think of ribs, beer & the Gateway Arch when you think of St. Louis (and you'd be right), but there is so much more to the city than that. From the many great museums to historic landmarks, a diverse culture, and plenty of growth and development happening in the area, there is a lot to see and do. There is also a variety of unique and delicious places to eat! Known for its signature gooey butter cake, toasted raviolis & unique pizza style, it's a truly fantastic dining scene that should not be overlooked.

Here at Dean Supply, we are committed to being the premier St. Louis restaurant supply store for all of your food service needs. We carry a wide selection of all the tools and equipment you need to run a successful restaurant, bar, food truck, cafeteria, or hotel. With the best prices on professional cleaning supplies, bulk dinnerware, restaurant flatware, glassware and so much more, you'll never have to wonder where to buy restaurant supplies again. We also carry a long line of restaurant and kitchen equipment so you can confidently shop for the commercial refrigerators, freezers, ovens, blender, and more and trust that we'll be with you every step of the way!

With over 14,000 items in stock at our Cleveland warehouse, we are ready and waiting to ship your order to your St. Louis doorstep. We can provide fast and reliable shipping, and we can even offer free shipping on some equipment items. With the option to buy in small or bulk quantities, you are sure to get the items you need without breaking the bank. We're also open to the public so professional and home chefs can shop our kitchen supply store online and save. Start shopping now and see how we can help you achieve your goals today!
There are plenty of reasons why our customers keep coming back to Dean Supply, but the most notable is our total flexibility we offer our customers. Unlike many of our competitors, we offer you the option to purchase your commercial kitchen equipment, food and beverage containers, catering or other restaurant needs in individual or bulk quantities, so you only have to purchase what you'll actually use! Whether you need one or one hundred, we have you covered. In addition, we're open to the public, welcoming anyone, professional or just getting started, can stop by and shop like a chef.

Looking to refresh your commercial kitchen equipment? We have a complete line of equipment items for your restaurant, bar, food truck, cafe, catering business, church and cafeteria to perfectly prepare and serve every meal. Our customer support specialists are trained experts who are standing by to answer any questions you have in order to ensure your complete satisfaction. No matter if you're looking for commercial deep fryers, baking supplies, freezers, barbecue grills or aluminum pans, you're going to find what you need for the best price.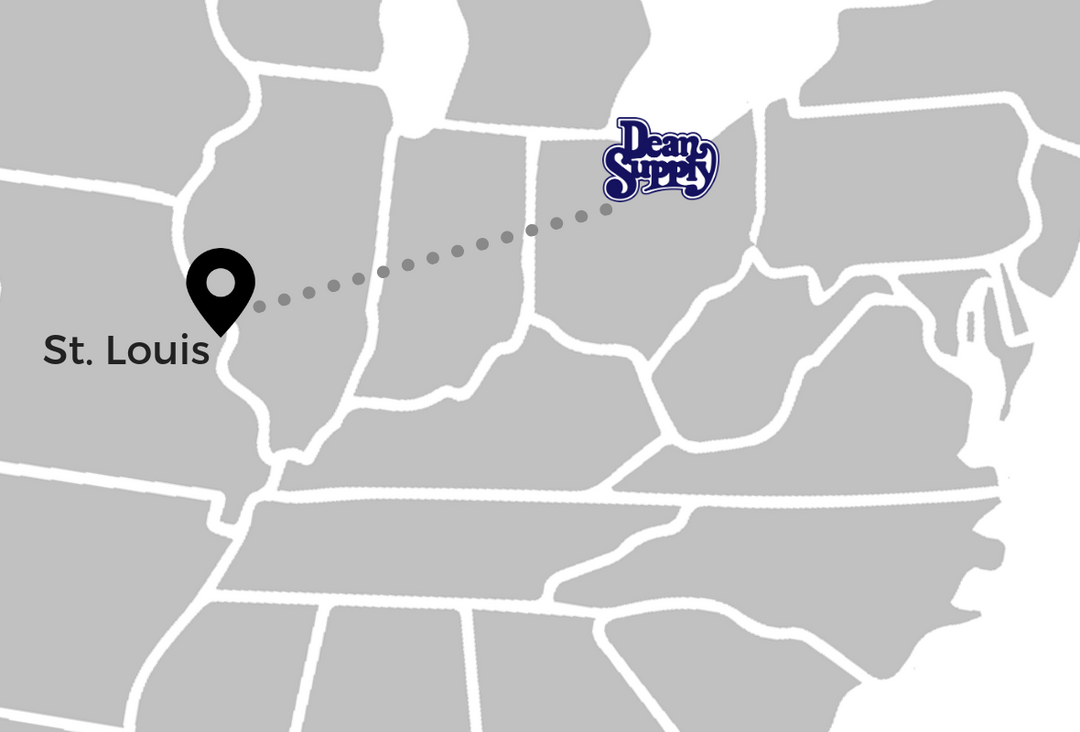 Estimated Delivery Time
2-3 Business Days
Get Fast & Reliable Shipping To:
St. Louis, MO
St. Charles, MO
Chesterfield, MO
Fenton, M
Belleville, IL
Granite City, IL
Edwardsville, IL
Need Assistance?
No matter what type of kitchen supplies or commercial restaurant supplies you are looking for, we're here to help you get it right. Here at Dean Supply, we have a highly attentive customer service team readily available to answer your questions, help you make purchasing decisions or place orders on your behalf.